The original intention of this blog was to share a day in the life of a Common Ground Crisis Residential Unit team member. After interviewing Shelley Yost, Certified Peer Support Specialist and Recovery Coach, and learning about Peer Recovery Coach Lesia Tkach's journey, this post transformed into a story about recovery, inspiration, incredible compassion and dedication to truly making a difference in the lives of others – not only those in crisis, but colleagues as well.
The Crisis Residential Unit (CRU) at Common Ground is an alternative to inpatient psychiatric services. Individuals are there voluntarily and while the doors are alarmed for safety, they're not locked. Guests are referred to the program after an emergency assessment with the Common Ground Oakland Assessment & Crisis Intervention Service (OACIS) team. Guests typically come in a state of crisis, stay 7 – 10 days and often move on to outpatient therapy services, residential substance use treatment, community housing, and more.
What's truly special about this program is the lived experience the Peer Recovery Coaches bring to supporting everyone served at the CRU.
Why did you want to become a Recovery Coach for Common Ground's Crisis and Residential Unit?
Lesia: My journey as a Peer Recovery Coach started the last time I was in residential treatment in the Fall of 2019. One of the other women had a visitor in the middle of the day that she immediately ran up to and started crying. Her interaction was so raw and genuine I had to know who that individual was – and learned it was her peer recovery coach. It was at that very moment that I made the goal to be that person for someone else. I set a goal of staying clean for two years so that I would be able to get certified. It felt like a long two years, especially with COVID starting when I was five months clean.
When I finally hit two years clean, my disease made me doubt whether I should pursue my goal, if I could help someone or be successful and take care of my family. Things started falling into place. People started sharing at meetings how much their peer recovery coach had helped them and a woman in my woman's group worked for a nonprofit organization that had a six-month peer recovery coach apprenticeship. I applied for the program and was selected to be one of five individuals for their next cohort. In the apprenticeship, I learned a lot about multiple pathways to recovery and most importantly was able to truly acknowledge my own recovery as a huge privilege.
Nearing the conclusion of my apprenticeship, I applied for jobs including Common Ground. My story into recovery involves being in a crisis residential unit and felt that I would be able to connect with individuals that shared that experience with me.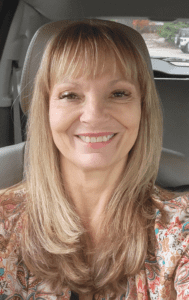 Shelley: Eight years ago, I worked for the CRU part-time and I always wanted to return for a full time position. Having lived experience allows me to connect and relate to our residents in ways others cannot. I have greater compassion when meeting someone when they're scared, hungry and in crisis because I've been there myself. Making sure they feel welcomed, safe and not judged is really important. I love seeing them leave with greater self-esteem, feeling better, and knowing I was a part of that difference.
What is your role as a Peer Recover Coach in supporting residents?
Lesia: I chose to accept this position because Common Ground's mission of "helping people move from crisis to hope" speaks volumes to me and is a running phrase through all the work I try to accomplish in the CRU. I mostly work the 4pm-12am shift as a peer recovery coach. No two shifts look the same and my gratitude for being able to work with the people we serve keeps growing.
Our intake process is thorough and thoughtful. When someone enters our doors, they could be feeling several different things all at once and it can often be overwhelming. It is our job to make them feel safe, comfortable, and welcomed to the unit. We introduce them to all the staff working, give them a tour of the unit, make sure they are fed thanks to our exceptional chefs and all their immediate needs are met.
When I interact with the people we serve, I make sure to "meet them where they are at." I ask how I can support their recovery needs, whether it be resources to recovery groups, reading a passage out of chosen recovery literature, or any other topic they need to address. My passion is breaking down barriers, providing resources, and eliminating the stigma of addiction and mental health.
Shelley: I help people feel valued and not judged. I try to always be upbeat and kind and help our residents get the most out of their stay. Many times, people just need someone to listen – not to fix their problems, but just listen one-on-one. This is something I'm more than happy to provide at whatever level they feel most comfortable sharing.
One of my favorite roles is checking on people in the evening to make sure they're safe and sleeping. Often people will come into the CRU without having slept for days. It feels so good to see someone sleeping because it means they finally feel safe enough to let their guard down and recuperate mentally and physically.
What does a typical day look like in the CRU?
Lesia: Our social work team coordinates discharge planning including outpatient therapy services, residential substance abuse treatment, community resources for housing, etc. They truly embody "person centered planning" and empower our persons served to advocate and take charge of their next steps. We have 24/7 on-site nursing staff and peer recovery coaches and mental health techs. Our resident psychiatrist meets with them 2-3 times per week for medication needs.
Shelley: My day typically consists of getting a progress report from the previous shift staff; making hourly rounds to ensure everyone is safe and accounted for; and we host a morning recovery group. In group we encourage everyone to set their daily intentions and goals, offer support for one another, and teach various skills like coping skills, life skills, stress management, and relapse prevention. I assist with admissions and make myself available to residents during their free time to be a listening ear or resource for support.
Any final thoughts?
Lesia: My favorite part of working on the CRU is the people- both my coworkers and the people we serve. With so many moving parts throughout the day between intakes, discharges, groups, meeting with the doctor and social workers, it is vital that we consistently communicate as a team. Building each other up, picking up the slack, and putting the people we serve needs' before our own is evident in every shift.
Shelley: Sometimes people have to come back to the CRU. I always want people to know that it's ok and there's no judgement here. I want them to know we're available for when they need us and we'll always be here to support them in their journey.
It's only at Common Ground where I found MY place and home. We're all a family sharing a space of healing, support for one another and hope.
###
Common Ground's Crisis & Residential Unit is a recovery oriented, short-term, voluntary psychiatric domiciliary care for adults that includes medication management and monitoring, nursing, group therapy, art therapy, and discharge planning for recovery. To learn more, call 1-800-231-1127.